University of Pittsburgh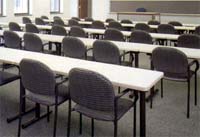 Given the scale, and range of products needed for this job, the University of Pittsburgh Facilities Management Department decided to turn to Anderson Interiors for their experience and expertise in handling comprehensive furniture purchasing and installation.
This project required solutions for private office environments, classroom desks, individual student workstations, various conference room settings, and freestanding furniture.
Anderson Interiors met every special consideration presented by the University, by coordinating delivery and installation schedules to facilitate move-in for businesses long before the completion date of the entire project.
The result was a project completed ahead of schedule with satisfaction shared by the businesses and departments occupying the new MPAC Building.
Somerset County Office Building & Parking Facility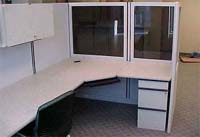 Anderson Interiors and GF Office Furniture began working with EADS Architects on the Furniture Design of Somerset County's new building 2 years before the building was finished.
Anderson Interiors met with the (15) departments of the County to determine their furniture needs and to help them come up with a design for their specific area. We then consulted with the architect and helped in the final plans for each specific department and the building itself.
In the end Anderson Interiors and GF Office Furniture installed roughly (180) workstations and approximately (25) conference rooms throughout the building.
The building was dedicated on March 24 and 25 of the year 2000. This marked the first structure built for Administrative Services in Somerset County since 1904.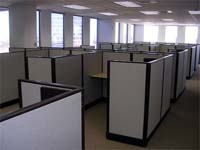 "We were extremely impressed with the professionalism and personal attention we received, considering we are located in Washington, DC. This was only to be outdone by quality of the furniture itself. We had some unique and specific requests including multiple custom-designed workstations and office desks. They made things much easier than I expected by frequently visiting our space, showing us other installs they had done, and providing easy-to-understand drawings and measurements along the way. We even took a tour of their facilities so that we could understand how the process worked! When it came time for the install, on very short notice, Anderson went out of their way to make sure it was done on time so that our people were ready to work first thing Monday morning. We didn't miss a beat! Everyone I dealt with along the way, including the reps, artists, workers, and installers, were a pleasure to deal with and offered that "home-town service" that you rarely see anymore. Our furniture is comfortable, looks professional, and cost a fraction of the amount we would have spent on new furniture. I have already recommended Anderson to others in DC and will continue to do so. Thanks for everything!"
Joe Zaczyk, CustomInk.com
CustomInk.com, an online provider of custom t-shirts.