The Foundry at 41st
The Foundry at 41st is located in Lawrenceville, PA, a budding and trendy neighborhood of Pittsburgh with a rich industrial history including narrow row homes and old warehouses, but more recently, an urban vibe with popular restaurants, bars and intimate coffee shops.  The complex offers luxury living with an impressive list of amenities, including a concierge, swimming pool, fitness areas/yoga studio, pet spa, and several breathtaking outdoor communal areas with spectacular views.
A collaboration of Fort Willow Developers and Walnut Capital, this 182-unit apartment building opened in May of this year and offers a variety of options, including micro, one and two bedroom rentals.  Anderson Interiors was tasked with providing much of the furniture for the common areas, including lobbies, meeting rooms, café, media room, and several functional outdoor seating areas.  These pieces were chosen for their functional and aesthetic attributes.  See the high-lights in the gallery below.

---
---
One More of Pittsburgh's "Coolest Offices" – Expedient
Pittsburgh Business Times, with Digital Producer Paul G. Gough, has featured our area's "coolest offices" in the last couple of years where they showcase what they call "the most interesting, inspiring and attractive office spaces in the Pittsburgh region".  Anderson Interiors has supplied the office furniture for yet another of these very cool offices, Expedient in Green Tree, Pennsylvania, a suburb just outside of Pittsburgh.
Follow this link for the full article and accompanying photo gallery:
Pittsburgh's Coolest Offices: Expedient
WHY IT'S A COOL OFFICE:  "Expedient has two facilities in Pittsburgh, one in Green Tree and the other along the North Side.  The company has been investing in the data centers — along with others elsewhere — with multimillion-dollar investments. The Green Tree data center has workspaces for 50 employees, complete with bright LED lighting, ergonomic office furniture, white noise generators and places to present data and other information."
We have taken some photos of our own.  See for yourself why it's a cool office.  While Pittsburgh definitely has the coolest offices for the most part, Anderson Interiors has supplied the furniture for many Expedient locations, including multiple locations in Pennsylvania, Maryland, Ohio, Indiana, Tennessee, and Massachusetts.  Account Manager Jamie Sharp has worked closely with Expedient for many years to offer them their desired layout keeping all locations aesthetically consistent and equally functional.

---
---
Ascender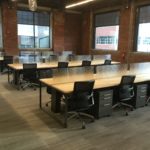 Ascender, formerly Thrill Mill, "is a hub for Pittsburgh's starters and builders, providing programming, insight, and connectivity".  Ascender contacted Jamie Sharp of Anderson Interiors looking for furniture solutions for their location on Penn Avenue, Downtown.  Jamie worked with them to choose furniture that flowed well with their very open factory like space.  They used West Elm Workspaces's Industrial Benching to provide work areas for (44) staff members.  Each unit includes a mobile pedestal for personal and paper storage.  The work surfaces, which include under surface power modules, are a light oak supported by hot-rolled steel legs and bases.  The aesthetic of the light wood and the dark steel combine beautifully with the existing red brick walls.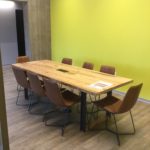 The benching units were paired with Sit On It's Novo mid-back task chairs in Sit On It's own Sugar Berry Pop fabric with black mesh backs.  Height adjustable arms were added for comfort and polished aluminum bases for style.  The Novo task chair is Sit On It's newest offering and won the "Best of Neocon 2016" award in the Ergonomic/Task Chairs category by Contract Magazine and Buildings Magazines Editors' Choice award in the Product Innovations 2016 category.  The chair is versatile enough for the workstation, conference room, collaborative area, or even the boardroom.  There are many variations to accommodate your wish list for different back heights, fabric colors, frame colors, lumbar colors, mechanism functions, and arm options.  They even come in stool height.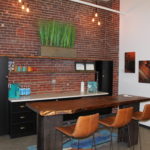 For their conference room, Ascender opted for West Elm Workspace's Slope chair.  This chair has been a best seller for both modern and industrial spaces.  It has a contoured premium leather seat in saddle paired with a hot-rolled steel metal frame.  We have seen them specified as conference room chairs, office side chairs, and even dining chairs.  The pictures don't do them justice.  They are absolutely stunning in person.  West Elm Workspace Pittsburgh has three of them in bar height and they mix perfectly with our live edge custom built bar.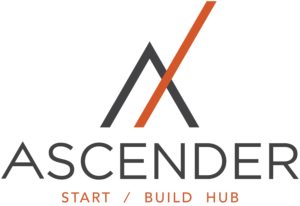 It was a pleasure working with Ascender and we look forward to a mutually beneficial relationship.  "Ascender is the culmination of Thrill Mill's evolution over the past three years.  Ascender continues Thrill Mill's work supporting Pittsburgh's self-starters across all sectors, while adding more value through coworking, programming, and mentorship."
---
---
Innovu
Innovu, a company who can help you  "Integrate Data to Drive Your Health and Benefits Decisions", commissioned Anderson Interiors to furnish their headquarters at Station Square in Pittsburgh.  They were looking for functional furniture that would encourage teamwork and collaboration.  They needed options for Bullpen Areas, Private Offices, an Executive Conference Room, and two Huddle Rooms.
Bullpen Area – Systems, Mobile Desks and Seating
Innovu selected Friant's Novo Systems for the Bullpen Area and complimented it with Torsa task seating from SitOnIt.  Novo was chosen because of its design flexibility with segmented panels.  Innovu chose a Slide Twilight fabric for the base panel and coordinating Passage Leaf for the top panel.  The system features a slim base, updated storage, leg and worksurface options and a fresh new Cloud White finish for the trim.  To increase flexibility, they selected mobile desk tables and pedestals from Great Openings.  SitOnIt's Torsa chair was chosen for its cutting edge design, color options, comfortable and durable mesh back, and lifetime warranty of 12 years for 24/7 use.
Private Offices – Seating
Torsa from SitOnIt was provided as office chairs for the Private Offices and matched with SitOnIt's Focus side chairs for guest seating.  Focus 4-leg chairs feature 3 back options (mesh, wood and fully upholstered), 15 bleach cleanable mesh back colors, 2 wood back styles and 4 wood stain finishes, black or silver frame accents, and a lifetime warranty on all structural components.   Innovu went with a navy mesh back and SitOnIt's Highland Cottage fabric on the seat.
Executive Conference Room – Seating
For the conference room, Innovu opted to go with SitOnIt's Prava conference chair in Element Onyx fabric with silver metallic arms and a black base.  The Jorge Pensi-designed Prava chair features double-stitched detailing and molded-foam construction for sophisticated styling.  A plush foam back and an array of controls balance comfort and design, making Prava an elegant choice for the office or conference room.
Huddle Rooms – Seating and Tables
Innovu's Huddle Rooms now feature choices from Ideon, OFS Brands (Loewenstein and First Office) and SitOnIt.  Ideon's Composium Flair club chairs and sofas were perfect choices because of their contemporary elegance with retro flair arm style.  Perfect for hospitality, higher education, corporate and intimate lobby environments, Composium Flair blends comfort and unique styling with durable steel rail construction for heavy usage in tough environments.  Composium Flair is part of a broad and versatile soft seating collection with sharp, round, curve, bench and ottoman models.  Loewenstein's Bendz pull up tables were added for their versatility and First Office's Boost ottomans were placed randomly for extra mobile seating and/or table use.  Standup tables were provided as another collaborative option featuring Intermix tops and higher bases from First Office and accompanied by SitOnIt's Lumin stools for seating.
The spaces came together beautifully.
---
---
Two of Pittsburgh's "Coolest Offices"
In September of 2015, Pittsburgh Business Times, with Digital Producer Paul G. Gough, featured our area's "coolest offices" where they showcased what they called "the most interesting, inspiring and attractive office spaces in the Pittsburgh region".  Anderson Interiors supplied the office furniture for two of these very cool offices.  Excerpts from the articles are as follows:
          LGA Partners – WHY IT'S A COOL OFFICE: "After 22 years in Edgewood, Lami Grubb Architects relocated to Uptown earlier this year and reemerged as LGA Partners, one of the top ten architectural firms in Pittsburgh. LGA moved into an entire floor of the historic Reymer Brothers Candy Factory (now Forbes Pride Building). There, we created a new 11,000-square-foot office interior that creates a vibrant dynamic between the old factory and our new state-of-the-art office, characterized by vivid colors, innovative use of materials, unique lighting solutions, and an open concept that supports a collaborative environment through the use of adjustable meeting areas that utilize sliding walls."  Click here to see the full article and slideshow.
          Regulatory & Quality Solutions –WHY IT'S A COOL OFFICE: "New as of March 2015, R&Q¹s refined and inspiring workspace empowers employees to do their best work… and take a break from it, too. From wall to wall it's an environment designed for efficiency, and one that personifies R&Q's energetic, collaborative, and entrepreneurial culture. Employees can refuel with coffee, snacks, and more in the contemporary kitchen, or unwind with a colleague over shuffleboard or darts. Want to stand while you work? There's a button for that on every desk. The space promotes thinking big and sets the tone for one of the fastest-growing private companies in the nation." – Stephen Biernacki, senior marketing specialist.  Click here to see the full article and slideshow.
---
---
OFS Brands Success Story, LGA Partners
Speaking of LGA Partners, check out this success story from OFS Brands, one of Anderson's major furniture manufacturers.  Along with OFS Brands, Anderson Interiors supplied LGA Partners with 42 workstations, 5 private offices, and conference room furniture.  See the photos and read more about it here…
OFS Brands includes OFS, First Office, Carolina, Loewenstein and Highmark.  Check out more of their Success Stories  here.
---
---
Good Orthodontics – Project Spotlight – SitOnIt Seating/Ideon
Regional Orthodontics office is a spotlight focus for Sit On It Seating and Ideon.  Read about how Anderson Interiors matched the chairs with their needs here…
          Good Orthodontics / Project Spotlight
The project included Aviera seating from Ideon and Amplify, OnCall and Focus side seating from SitOnIt.  Emphasis on comfort and style!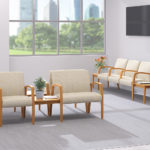 Aviera (lounge/lobby), Ideon 
The stylish Aviera collection includes versatile guest and bariatric seating. Maple or beech wood framed arm chairs can be linked to tables and seats and can be specified in 21″, 24″, 30″ and 44″ widths.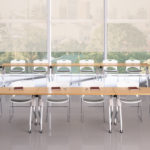 OnCall (multi-purpose), SitOnIt Seating 
The OnCall side chair and cafe stool are lightweight and affordable choices for guest seating. Featuring the collection's signature crescent handle and back cut-out, this side chair brings a side of style to pull-up meetings, lunchrooms or training sessions.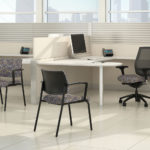 Focus (side), SitOnIt Seating 
The revitalized Focus Side combines comfort and design for multi-purpose, office, or reception areas. Choose either the 4-leg side chair or café stool in three back options – mesh, upholstered and wood. Two different frame finishes permit it to blend in – or stand out. Focus Side is part of a broad and versatile collection that includes executive and task models. Designed to complement Focus Executive, Focus Work and Amplify task chairs.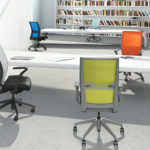 Amplify (task), SitOnIt Seating 
Sleek, aerodynamic lines give the Amplify collection power, with a modern look and sumptuous comfort. Midback and highback mesh and highback upholstered chairs are available in multiple frame, arm and base colors. Amplify offers more built-in features than any other chair in its class, with enhanced synchro, height adjustable arms and adjustable lumbar support all standard. The curvaceous profile and vast array of options make this a chair that delivers style as well as substance.
---
---
CustomInk.com
"We were extremely impressed with the professionalism and personal attention we received, considering we are located in Washington, DC. This was only to be outdone by quality of the furniture itself. We had some unique and specific requests including multiple custom-designed workstations and office desks. They made things much easier than I expected by frequently visiting our space, showing us other installs they had done, and providing easy-to-understand drawings and measurements along the way. We even took a tour of their facilities so that we could understand how the process worked! When it came time for the install, on very short notice, Anderson went out of their way to make sure it was done on time so that our people were ready to work first thing Monday morning. We didn't miss a beat! Everyone I dealt with along the way, including the reps, artists, workers, and installers, were a pleasure to deal with and offered that "home-town service" that you rarely see anymore. Our furniture is comfortable, looks professional, and cost a fraction of the amount we would have spent on new furniture. I have already recommended Anderson to others in DC and will continue to do so. Thanks for everything!"
Joe Zaczyk, CustomInk.com
CustomInk.com, an online provider of custom t-shirts.