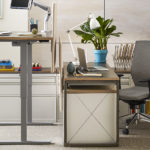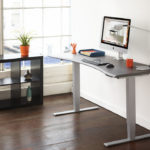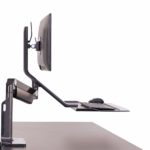 There has been a lot of buzz in the office furniture industry lately.  Major furniture and ergonomic accessory manufacturers are developing new products that give office professionals the opportunity to stand while they work.  One study conducted in 2011 called "Reducing Occupational Sitting Time and Improving Worker Health: The Take-a-Stand Project" by Nicholas P. Pronk, PhD and his associates, reduced time spent sitting by 66 minutes per day and concluded that the project "reduced upper back and neck pain by 54%, and improved mood states".  Even more fascinating is that these benefits were all completely eliminated within two weeks of the project end.
Other benefits touted by some include:
Regularly flexed muscles support healthy functions and chemical production.
Decreased chances of developing diabetes, cardiovascular disease, and blood clots.
Burning of more calories.
Increased focus and alertness.
A lot of options are now available for those who want to reap these benefits.  You can add a base to an existing top, purchase a table that includes a sit/stand base, or install a unit that attaches to an existing desk allowing the monitor and keyboard to rise while the desk stays in place.  Most popular now is incorporating multi-unit benching systems that have a sit-to-stand option designed and built into all stations.  Anderson Interiors has options from Inscape, West Elm Workspace, ESI Ergonomic Solutions, Workrite Ergonimics, Symmetry Office and Humanscale.
Call 412-828-7420 to learn the best way for you and your co-workers to stand while you work!  And the answer to the question is – Sit AND Stand!